Piano Lessons In Ashburn, Virginia
Is It Possible For Kids To Learn Music Quickly And Easily?
Kids love music… So why does it seem that kids don't like learning music or taking piano lessons?
Often, teachers pin students down and force them to choose between two options:
#1 – Practice the piano (an activity not enjoyed on an instrument not appreciated).
#2 – Make the teacher unhappy.
A child is forced to choose between what will hurt less and what will hurt more.
A "good" old-fashioned piano teacher is often merely someone who has figured out how to leverage the child's psyche in their favor, so the child will choose to practice the piano – commonly against the child's will.
I wonder where the line lies between "motivational tactics" and "bullying."  When a child's cheeks flush with embarrassment because of a teachers harsh words, or when hot tears start to run down a little face… I would dare say that a line has been crossed.
This is a big part of the reason why piano lessons are so unpopular with children.  Their environment is missing the spirit of "play-and-explore." Instead of being anxiety free, anxiety is actually used as a weapon by the teacher for leverage against the student.
Is there a remedy for this problem?
We Have Turned Piano Lessons Into A Game That Kids Can Play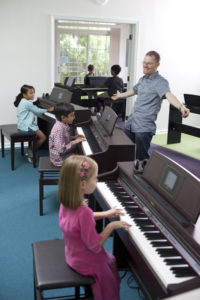 Why should learning music be a chore or drudgery for children?
At the Express, we leverage a child's own sense of adventure and playfulness to help them enjoy and learn music.
At the Express, we have invested tens of thousands of dollars into high tech equipment that allows children to learn at their own pace and do what they like best…
Explore and play games!
Our high-end Roland pianos allow us the kids to play their songs and get instant feedback on their progress.
It is unique and non-threatening. It allows a student to have a sense of independence while still benefiting from the experience of a warm, caring teacher.
The best way to understand is to see it in action for yourself!
Contact us below for more information or to schedule an introductory lesson.